LIVORNO
Leaning Tower
Florence la Bella

VENICE
City Tour
Murano & Burano
Padua

NAPLES
Pompeii Tours
The Amalfi Coast
Capri
Ischia

ROME
Imperial Rome
Eternal Rome
Vatican City

MESSINA
Taormina Tour
Discover Sicily
Etna Vulcano



Pisa, only 30 minutes driving from Livorno, was once famous as a sea-trading republic, the main rival of nearby Genoa. Today it is a tourist city with the Leaning Tower on a lovely green lawn and the adjacent Cathedral and Baptistery.
The construction of the Cathedral started in 1063 to commemorate the Pisans defeat of the Saracens in Sicily that year. Its interior pillars were brought back from the Moslem lands during the campaigns. In the half-dome there are superb 13th century mosaics by Cimabue.
The Leaning Tower (outside view only) was designed as a bell tower to the Cathedral and construction started in 1174. It was finally finished in 1350. The 294 steps lead to the top terrace from which there is a striking view. Unless modern engineering can stabilise its tilt, the building will probably fall in the next two centuries.
Suggested timing:
08:30 Departure from Leghorn
09:10 Drop off at a 1/2 mile walk from Piazza dei Miracoli.
09:30 The guests will have a guided tour inside the Cathedral and an
outside explanation of the Baptistery and Leaning Tower.
10:30 After the tour guests will have about 45 minutes free time to stroll.
11:15 Meeting with the escort to return to the buses.
11:40 Departure from Pisa to return to Livorno
12:15 Arrival at Livorno and return on board.
The above timings are approximate and subject to traffic permitting.

Note: on Sundays mornings the guides can not take the groups inside the Cathedral due to the holy services. No problems in the afternoon.
Entrance fee included: the Cathedral only.
Walking Information:The walk from the bus parking area to Piazza dei Miracoli is approximately 20 minutes over even surfaces each way.
Restrooms: available in the square at Euro 1 pp. And at cafes.
Wheelchair Access: Wheelchair not suggested for the long distance between the parking area and Piazza dei Miracoli.
Shopping information: Shops open from Monday to Saturday 09.00 to 13.00 / 16.00 to 19.30 (not all shops close during lunch time).
Guests will have approximately 30 minutes free time for shopping.


Reservation of this TOUR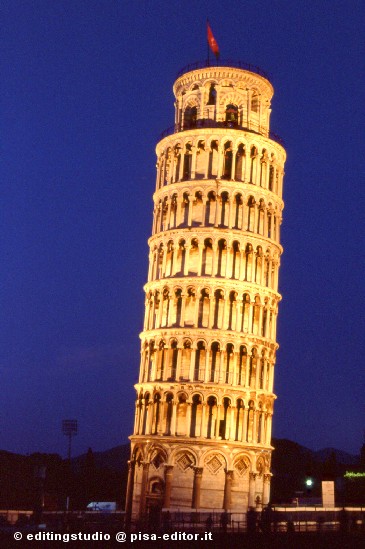 The Leaning Tower Pisa
Come to see the most famous bell tower in the World, 418 steps to the top...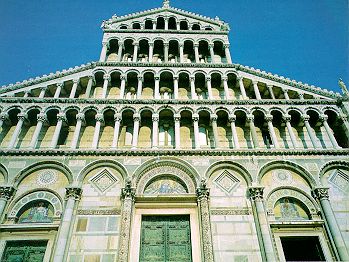 Pisa - The Cathedral
Graund was broken in 1064 but construction continued well into the 13th century...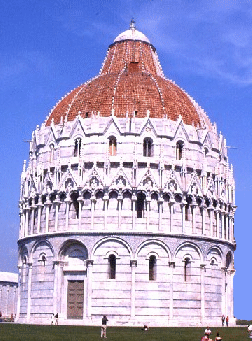 Pisa the Baptistery
The baptismal font is a 13th masterpiece by Guido Como...