LIVORNO
Leaning Tower
Florence la Bella

VENICE
City Tour
Murano & Burano
Padua

NAPLES
Pompeii Tours
The Amalfi Coast
Capri
Ischia

ROME
Imperial Rome
Eternal Rome
Vatican City

MESSINA
Taormina Tour
Discover Sicily
Etna Vulcano



Departure from Leghorn harbour by A/C Deluxe bus and escort to Florence, the journey takes approximately 1 hs 45 min. through the Tuscany countryside
Guests will leave the buses and begin a 2 ½ hour walking tour which includes Piazza del Duomo where the Cathedral, Giotto's Bell Tower and Baptistery stand, then on to Piazza della Signoria in the front of Palazzo Vecchio to see the copy of Michelangelo's David. The tour then continues to the Loggia dei Lanzi and on to the Church of Santa Croce. The guests will then carry on to Piazza della Repubblica where they will have free time to lunch and wander.
After their free time, guests will meet at Piazza della Repubblica (or other venue place) with the escort to return to the buses to leave Florence.
Arrival back to the port of Leghorn and return on board of the ship.

Suggested timing:
08.00 Departure from pier (2 hrs drive to Florence with a rest stop of 20 min.)
10.00 Arrival in Florence and beginning of the guided tour
12:45 Arrival in Piazza della Repubblica, meeting point, for free time
16:15 Meeting in Piazza della Repubblica, with the escort to return to coaches
16:30 Departure from Florence
18:00 Arrival to Livorno
The above timings are approximate and subject to traffic permitting.

Note: Due to new traffic regulations in Florence each coach needs to book an entrance permission well in advance as they are very limited, it is therefore very important to know well in advance the number of coaches needed.
To visit the Museums in Florence we need to book the entrance well in advance.
Possibility to have the guided visit in the afternoon and the free time in the morning.
On Sundays the Cathedral opens at 1.30 p.m., and Santa Croce at 15.00. lunch can be served at 14.00.

Walking Information: Due to parking restrictions the bus parking area is located approximately ¼ to ½ mile from the city centre. The guided walking tour involves approximately 2 miles of extensive walking on cobblestone streets.

Wheelchair Access: difficulty because of cobblestone streets and extensive walking
from bus park to city centre.
Shopping information: Shops open from Monday to Saturday 09.00 to 13.00 / 16.00 to 19.30 (not all shops close during lunchtime). Sunday shops are closed.

Restrooms: available on the motorway , at coffee shops and at the restaurant.

Dress Code: Casual wear and comfortable shoes: entrance to the Cathedral requires specific attire guidelines: ladies must cover knees and shoulders, while gentlemen's attire must include pants/slacks or jeans only (no shorts).




Michelangelo's David
Marble, height cm 420. The work, carved between 1501 and 1504, was destined to be placed immediately in front of the Palazzo Signoria...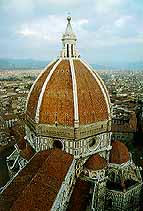 Brunelleschi's Cupola
It is the end result of years of work that covered over six centuries of history...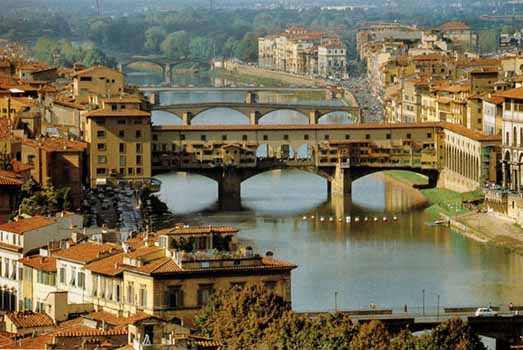 Bridges over Arno
The Ponte Vecchio or Old Bridge in the heard of the city...